What makes an area a Property Hot Spot?
A Hot Spot is an area which has yet to reach its full potential. When comparing it to similar areas and price points, it is more affordable and has just as much (or more) to offer. This drives people there, causing a ripple effect of demand which sees prices increase along with the competition.
What should you look for when buying into a Hot Spot area, and why does Liverpool stand out from the rest?
There are generally four key indicators contributing to an area's Hot Spot status. These are; infrastructure, employment, population growth and lack of oversupply. We also cover a couple of other points, too.
As part of the government's Metropolis of Three Cities plan, Liverpool has been earmarked to become the third CBD in Sydney. Mix that in with the announcement of the building of Sydney's new airport, and you have massive growth potential.

Infrastructure
Firstly, Liverpool is undergoing a huge expansion and is currently the recipient of some massive infrastructure projects, both public and private. In addition to the new $5.6 billion airport, they include:
Road and rail access to the Sydney CBD, Port Botany and Sydney Airport already exist. However, connectivity is continuously improving too – planning is currently underway for the Sydney Metro Southwest extension from Bankstown to Liverpool. Also, with the emergence of the Liverpool Bike Plan, even cycling will be incorporated into commutes.
Employment Growth
A second factor in identifying a Hot Spot is that an area has an abundance of employment opportunities, both in growth and a diverse range of industries.
In addition to already existing construction employment opportunities as a result of current growth, Liverpool already hosts several industries nearby. There are also several big names in the area or coming to the region.
Retail is also a large sector of employment. Liverpool has 2 shopping centres in addition to the large outlet centre at The Grove.
Amazon opened it's distribution centre in nearby Moorebank last year.
Hospitality is growing too. It was recently announced that Meriton Suites Hotel are planning to move into the area.
Its traditional core employment area of healthcare will continue to be in demand with the upgrade of the hospital, as well as industrial. WesTrac recently opened a multi-million-dollar Casula hub, with 150 jobs.
The biggest demand in employment will be from the Badgery's Creek and Western Sydney Airport plan. More than 200,000 jobs are expected to be generated in the area (the site will also include education, aerospace and defence facilities). This is in addition to the workers needed for construction.

Population Growth
Another factor to look out for when researching a property Hot Spot is population growth. This is generally created off the back of jobs demand, which in turn creates price increases in housing. According to government data, Liverpool growth is already at 2.3% – twice the NSW average! Interestingly too, Liverpool's population growth has come without any compromise to population density.
**DID YOU KNOW?**
Liverpool City's median age is 33. Three years younger than the Sydney median age of 36.
No Obvious Oversupply
One thing you want to consider when looking at a Hot Spot is that there is no long-term oversupply. Liverpool is an area which has seen many new dwellings completed in the last few years, however, the demand (due to many of the above factors) means that in the long-term there will be pressure to provide even more housing. The large infrastructure projects on the way have assured Liverpool's need for a diverse workforce being required. Current data shows that 11,950 homes are on track to be built by 2023.
The Property
It is also important when looking to buy into a Hot Spot, that you don't forget to also focus on the property. At the end of the day, this is the representation of your investment. The better the quality the more it will protect and foster your investment.

Trust Your Instinct
Finally, if it makes sense and feels right then go for it! There will never only be one Hot Spot nor will there ever be one that ticks every box. It is important to check all the information you are provided and once verified trust your instinct. Everyone will have a differing opinion in terms of where the next Hot Spot will be, the most important thing is that you are comfortable and excited about your decision in the end.
One thing is for certain – Liverpool and it's surrounding suburbs are shaping up to be some of the best western Sydney suburbs for property in 2019.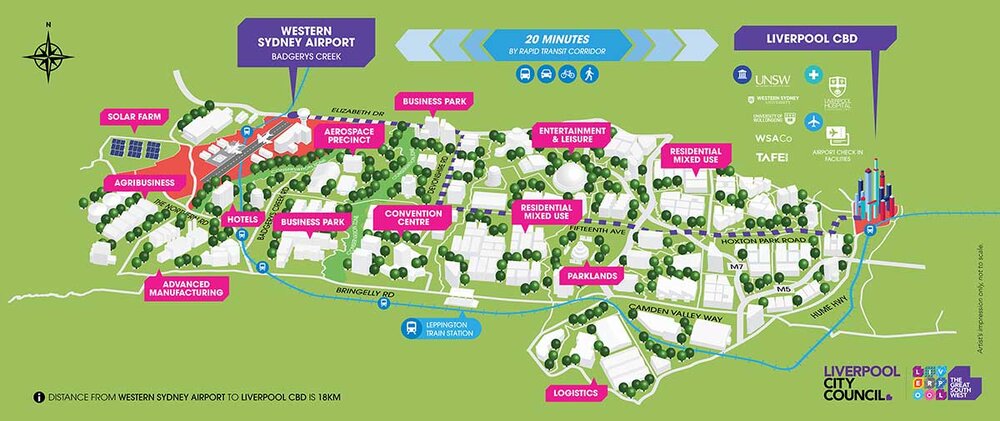 Further reading:
Property investment hotspots near infrastructure